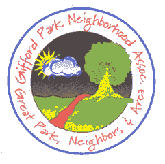 Technical High School

Before 1920 the area between Cuming and Burt Streets and 30th and 33rd was
undeveloped. There was mostly brush and small growth with a creek running into a larger
pond where a man or boy could go fishing. The area was available and Omaha needed a
new high school.

The Omaha School Board began negotiations for the purchase of the property. A Bond
Issue provided the needed money for the construction of a building to be called Technical
High School. From a story in the Omaha Daily Bee of April 3, 1922, comes this
description: "A building as massive and imposing as any of those that rose when Aladdin
rubbed his magic lamp is being pushed toward completion.

"Already, —the walls are up to the second story. As the sightseer comes up the Cuming
hill he is struck by the vastness of the project. Behind the concrete wall towers the red-
painted steel frame of the school auditorium, four stories tall. Reaching the top of the hill,
one looks down into the excavation for the boiler room, 50 feet deep.

"The building sprawls over two blocks of land, in five wings. It stretches 600 feet long and
about 300 feet wide. There will be eight acres of floor space. When it is completed in
September, 1923, it will have cost taxpayers $3,500,000 according to the official estimate.

"This splendid high school building will belong to the people of Omaha, but there will be a
mortgage on it, bonds one day to be paid off by taxes. That is why some of those who go
out and look the structure over can't decide whether to point with pride or view with alarm."
The Sunday Omaha World-Herald, May 13, 1923, said that Technical High was the most
complete and well planned technical school in the United States. The new school opened
on October 15, 1923, with nearly 2,400 pupils. By 1940 enrollment had reached 3,684.
The building was touted as the first air conditioned building in Omaha. Unfortunately, the
air conditioning system was not efficient and it eventually disintegrated and was
abandoned. The auditorium in the new school proved to be a fine site for famous and not-
so-famous artists. John Philip Sousa and his marching band appeared in October 1928.
Cornelia Ottis Skinner made her first high school appearance at Tech in January of 1930.
In November of 1926 the Metropolitan Opera Company of New York gave a performance.
Other greats who performed at the school auditorium were Helen Hayes and Douglas
Fairbanks Jr.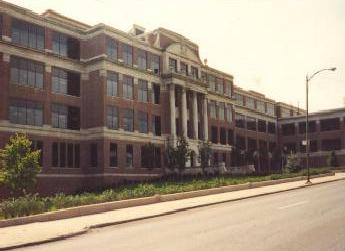 Original front entrance
to Technical High School

In its 72 years (61 at 33rd street) Tech graduated at least 25,000 young people. Famous
Tech students include Senator Roman Hruska; Mayor Johnny Rosenblatt; Mayor James
Dworak; Police Chief C. Harold Ostler, former president of Northwest Bell. A.F. Jacobson;
and Eugene Skinner, Omaha District's first black teacher who rose to the position of Asst.
Superintendent.

Many grads were outstanding athletes and an unusually high number went on to stardom
in college and professional sports. Among the football players were Les Webster ('63),
who played at Iowa State and with the Cincinnati Bengals; Phil Wise ('67) a UNO star who
played for the New York Jets; Johnny Rodgers ('69), who earned the Heisman Trophy,
and All-American football honors at Nebraska; and Preston Love ('62), who played with
the Cornhuskers.

Basketball stars included Bob Boozer ('55), who became an All-American at Kansas State
and an Olympic Gold Medallist in 1960 before playing in the National Basketball
Association; Ron Boone ('64), who retired from pro basketball after establishing a
durability record of 1,041 consecutive American Basketball Association and NBA games.

Bob Gibson ('53), a basketball and baseball star at Tech, became a Hall of Fame pitcher
and World Series hero with the St. Louis Cardinals; Jim Houston ('59), became a national
rodeo champion, and Lucille Wilson ('30), three times coached the United States women'
s track team in the Olympics.

The first principal was L. R. Rusmisel. In 1917 Dr. Dwight E. Porter succeeded him and
organized the school on a standard four-year high school basis. Dr. Carl Hansen became
principal at Tech in March 1945, followed by Carl Linn in 1947, Lloyd W. Ashby in 1947,
Carl Palmquist in 1950, and Dr. Odra Bradley in 1971-1984. Tech faced its most difficult
days in the '60s and '70s when housing patterns and school policies turned it into the
"black school" and the center for the educable mentally handicapped.

During the summer of 1972 the Board of Education approved extensive renovation of the
school, including new science labs, a radio/television center, painting and carpeting in
the classrooms and halls, new light fixtures and new classroom furniture. The magnet
program was in place and the school was beginning to recruit students from outside the
area. Then, the U.S. Circuit Court of Appeals' integration order came in 1975, and further
voluntary recruitment began to attract white students to the school. Student enrollment
had declined, but rose from 503 in 1974 to more than 1,500 in 1978 and the percentage
of black to white students became 30-35 percent.

However, Tech High was still a casualty of shrinking enrollment and the school board
decided to close it down at the end of the 1984 school year, renovate the building inside
and out and use it as the central administrative building for the Omaha School System.
Today we know it as the Omaha Public School Teacher and Administrative Building.
Some vocational classes continue. The yellow school buses bring students for such
special courses as telecommunications, printing, auto body, auto mechanics and
photography.

The old is new again after the $5,500,000 renovation. But the old 2,200 seat auditorium
remains as it was when the school closed — its silent stage and empty seats gathering
dust. It is waiting for money from somewhere, perhaps Aladdin and his lamp, so that it
can be used again for musicals and dramas, graduations and speeches.


Source


Omaha Daily Bee
, April 3, 1922

Omaha World-Herald
, May 3, 1923, February 23, 1983, February 26, 1984, June 28,
1990.

Technical High School, A Brief History
, 1972

Gifford Park Neighborhood Association

P.O. Box 31462, Omaha, NE 68131-0462

Gifford Park
History Book