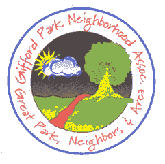 Grocery Stores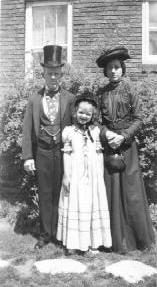 Many grocery stores have come and gone in the 33rd and
California area. From 1906 to 1910 it is recorded that a
Swedish immigrant named Carl Thorson sold groceries and
meat at 3226 California. Then two other Swedes named
Eskilson and Johnson were at the same address for a
couple years. Following them were Louis Zien and H. B. Batt.

In 1923 two more Swedes, George Nelson and Gustav (Bob)
Anderson enlarged the store up to the corner into 3228
California and sold groceries until about 1942. They dealt in
credit and offered home deliveries. They personally waited
on each customer and took many orders by phone. At
Christmas time trees and the stiff, dried Swedish fish
(Lutfisk) were stacked in ront of the store along California
Street.

Thorson's delivery from North 19th Street

age 14 and had been a partner with a cousin, Sam Frohm, before the war. The store at
33rd and California opened about 1921 and relocated to 52nd and Leavenworth in about
1940.

Albert Wohlner was married in 1924, and he and his wife, Mollie, lived for a while in the
Shirley apartments between 33rd and 34th and California. They had two daughters. One
daughter, Phyllis, married Sidney Swartz who went into the grocery business with his
father-in-law. Now the grandson of Albert Wohlner, Mike Swartz, owns and operates the
Wohlner Grocery at 52nd & Leavenworth. Three generations of grocers and still going
strong when nearly all other independently owned stores have closed. This says a lot
about the quality of the groceries and the integrity of the owners.

The Piggly-Wiggly store was located at 530 N. 33rd. Its tenure was 1927-1936 and was
one of the first self-service stores. Clarence Saunders started the Piggly-Wiggly chain.
He conceived the idea of a self-service store while working in the billing department of a
wholesale grocery firm in Omaha as a $4 a month clerk. He returned to Memphis,
Tennessee, where he was born, and piloted the Piggly-Wiggly chain to a 7 million dollar
business which he lost in 1923 on Wall Street. The store on 33rd street sold pork chops
for 27 cents a pound, ham for 32 cents a pound, leg of lamb for 29 cents a pound, coffee
for 46 cents a pound, eggs for 34 cents a dozen, and Post Toasties or Kellogg's Corn
Flakes for 7 1/2 cents a package. Butter was 43 cents a pound, rye bread 10 cents a
loaf, and potatoes were 36 cents a pack. Eggs and potatoes were purchased in huge
quantities in Omaha for the 2,300-store chain. Although these stores are gone in the
Nebraska area, the name is still carried on the West Coast.

A Spic and Span Store was located in the area about 1927. It was one of a chain of
seven in Omaha. At the grand opening each customer who purchased $1 worth of
groceries received a Free bottle of Gingerale and a half-pound of Spic and Span Coffee.
Gesundheit Malt was sold at 49 cents per can.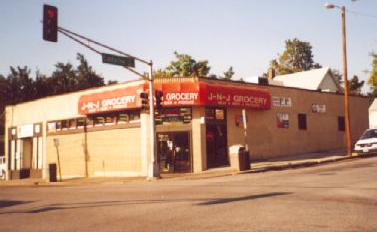 J-N-J Grocery with
GPNA Office to the left.

A Hinky-Dinky grocery store, part of a large chain of stores in Nebraska and the Midwest,
was located at 502 N. 33 in 1929. In 1935 it moved to the corner, the site of today's J-N-J
Grocery store. Three brothers, J. M., Albert, and Harry Newman and their cousin, Ben
Silver, all of Omaha, founded the Hinky- Dinky chain. They sought a name with the same
ring as "Piggly-Wiggly" and came up with "Hinky-Dinky" from the WW I song, "Hinky Dinky
Parlay Voo." In 1933 an ad for the store featured "Airy-Fairy Cake Flour" for 21 cents a
package, Doggie Dinner at 10 cents a can and Gold Brick Butter for 24 cents a pound.
The store closed on 33rd street in 1960. The Newman family sold their chain to the
Cullum Companies in 1972.

After the Hinky-Dinky store closed, the building was occupied by Ideal Hardware and
then the Apostolic and Pentacostal Assembly Church. In June 1989, Loren Johnson
opened the J-N-J grocery store on the northeast corner of 33rd & California, and J-N-J
moved across the street. to its present location in May 1992. A "grand opening" was held
in June of 1992.


Source


Benson Times
, September 1, 1922
Iversen, Wes,
Omaha Sun
, December 20, 1973
Olofson, Darwin,
Omaha World-Herald
, August 8, 1974

Omaha World-Herald
, March 22, 1923, January 20, 1927, November 7, 1928, October
15, 1953, October 1, 1965, August 8, 1974, January 16, 1985
Schwid, Honor, grandaughter of Carl Thorson
Swartz, Mike, grandson of Albert Wohlner, Interview, November 1995
Various grocery advertisements appearing in the daily newspapers.

Gifford Park Neighborhood Association

P.O. Box 31462, Omaha, NE 68131-0462

Gifford Park
History Book

A small "L" shaped grocery store just
east of the pharmacy at 3225
California had the reputation of
having the finest meat-market in
Omaha. People came from all over
town to shop at Wohlner's California
Grocery. Actually, most people
shopped by phone for a home
delivery. Albert Wohlner, an
immigrant from Poland, opened the
store when he returned from service
in the Navy in World War I. He began
in the grocery business as early as