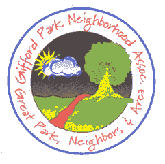 The Streetcar

At the turn of the century until the early 1940's a streetcar rattled up and down California
Street and turned on 33rd street. It was similar to the old car on display at the Western
Heritage Museum. The big trams had 14 forward seats, two in the very back, and two
long seats in front. They were covered with durable rattan and there were standee straps
toward the front. The cars were painted light yellow on the outside and the decor inside
the tall cars was yellow and brown with space for ads much like on buses of today.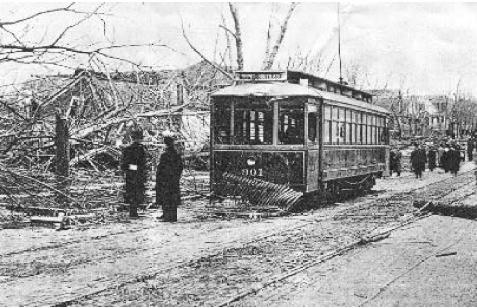 A streetcar stalled after the 1913 tornado

Around 1870 the cars were painted different colors and were pulled by horses or mules,
but by 1900 they were powered by electricity. The electricity came from wires which were
suspended over the tracks in the streets. A long pole with a rolling trolley wheel was
forced upward by powerful springs so that the trolley wheel rode along the underside of
the overhead wire. The electricity was in this way transferred to the motors under the
cars. Coal-fired power stations furnished the electricity. The motorman sat at the front
with his left hand on the controller, his right foot near the brakes and his right hand ready
to use the handle to open or close the front doors or to give change. Before 1931 there
was a conductor who collected the fares, and during WW II the company hired women
drivers.

A car equipped with rail grinders kept the rails smooth. In winter, sweeper cars and salt
cars cleared the area of the tracks. Many of the maintenance cars were older and smaller
model streetcars. Fares were four for a quarter in 1919, but by 1930 a cash fare was 10
cents or tokens, three for a quarter. Special high school fares were 5 cents between 7 a.
m. and 4:30 p.m. In 1949 the fare rose to 10 cents with no tokens and in 1950 you could
buy two tokens for a quarter.

Young neighborhood boys were the bane of the motorman. The boys would approach
the back of the streetcar stopped to load passengers and pull the cord attached to the
power pole. This cut off the electricity and forced the motorman to disembark, walk to the
rear of the car and re-engage the trolley wheel. Of course the boys were long gone by
then, but sometimes they would sneak back and detach the wheel again.

During the heyday of streetcars in Omaha a favorite outing for many was the ride to Lake
Manawa in Council Bluffs. There the Omaha and Council Bluffs Street Railway Company
ran the Lake Manawa Amusement Park. For the special round trip fare of 25 cents
passengers were admitted to the park where there was a roller coaster, a dance hall, hot
dog stands, and the opportunity to take the ferry to the other side of the lake for
swimming. The last streetcar in Omaha made it's run in 1955. Many lines had been
converted to buses by 1952 and earlier. Some of the old cars were sold to a Bible camp
for $325 apiece.

Not all of the streetcar era was tranquil. There were three strikes in the mid-1930's. One
began April 16, 1934, and a second one started on July 26 of that year, but lasted only
five days. The big strike began April 11, 1935 after the company turned down a tram
union demand. With the strike still on, the firm began operation of three trams on April 24
with police cars preceding and following each car and with police officers on board. The
first disaster came on April 29 when two trams were attacked and one motorman beaten.
Later, streetcars and at least one home (at 38th & California) were bombed as violence
grew. Two people were killed, scores injured, and several streetcars were burned in a
major disorder on June 14, 1935. The next day martial law was declared in Omaha and
all beer taverns were told to close from 6 p.m. to 8 a.m. On June 20, more than two
months after it began, the strike ended.

Source

Orr, Richard, Streetcars of Omaha and Council Bluffs, 1996
Wilwerding, Leo (one of the neighborhood boys)

Gifford Park Neighborhood Association

P.O. Box 31462, Omaha, NE 68131-0462

Gifford Park
History Book