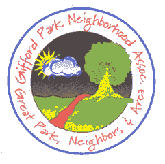 Duchesne Academy

From the Nebraska Historical Marker on the Duchesne grounds:

"In October 1881, Mother Margaret Dunne and three religious of the Sacred Heart
opened a boarding school for girls at a temporary location on Ninth and Howard in
Omaha. On September 1, 1882, Bishop James O' Connor sold Park Place, a 12-acre site
"west of town," to the sisters for one dollar. Building construction commenced in
February, and in November the Academy of the Sacred Heart opened to seventeen
boarders. On Easter Sunday, March 23, 1913, a devastating tornado demolished the
north wing of the school. Reconstruction took a full year and changed the front entrance
to the present circle drive.

"The school was approved for college courses in 1916, and in 1920 the Academy
became Duchesne College and Convent of the Sacred Heart. Both college and grade
school closed in the 1960's having educated thousands of students, pre-school through
college. Today Duchesne Academy of the Sacred Heart continues as a Catholic, four-
year, college preparatory, high school for women. It exemplifies a tradition of religious
commitment and builds on the educational excellence of the women religious who first
came to this "frontier post in the far west."

This marker was placed in 1981. Since then there have been many changes on the
campus. The area bordering 38th Street has been revamped into tennis courts and a
soccer field. Many old trees were removed; Mathews Hall, an unused dormitory, was
razed; and the land excavated to provide a flat playing field. New trees were planted
along 38th Street and the view of the city from there is outstanding. The interior courts of
the campus have also been developed. The most notable are the concrete arch in the
center, the wrought-iron arch over the entrance steps, and the corner markers. The
former science building on California Street was home for the Nebraska Business College
for a number of years, but has been vacated.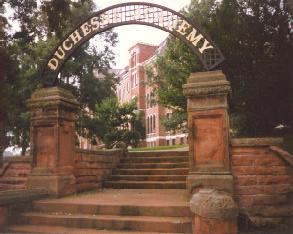 The modern, yet traditional,
Academy building itself contains
airy classrooms, a spacious
auditorium; wide halls; a beautiful
chapel with stained glass
windows; lecture halls; a
gymnasium; a dining hall, student
lounges; faculty rooms and more.

Duchesne counts many outstanding alumni among whom are Letitia Baldrige, author and
newspaper columnist, who was Social Secretary to Mrs. Jacqueline Kennedy; Gail
Yanney, Omaha philanthropist; Diane Nelson, wife of the former Nebraska Governor; and
Mary Daub, wife of Omaha Mayor Hal Daub. Enrollment is around 200 with a total of 46
faculty members and administrative personnel.


Source


Nebraska Historical Marker, 1981
Haggas, Shiela, Head of School, interview September 1996

Omaha World-Herald
, November 7, 1996

Duchesne: One Hundred Years of Growth in Love and Learning
, 1981

Duchesne Academy website, http://duchesne.creighton.edu/

Gifford Park Neighborhood Association

P.O. Box 31462, Omaha, NE 68131-0462

Gifford Park
History Book